Customer Spotlight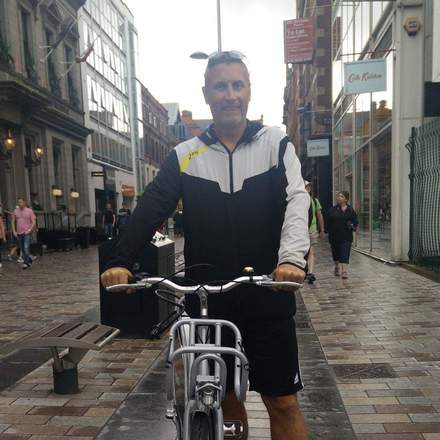 Name: Philip Wilson
Occupation: Digital Media Manager @internetsense (FB, Twitter, LinkedIn)
Home Location: Stormont
Work Location: All over Belfast and beyond
What made you decide to become a Belfast Bikes member?
My ten year old daughter is obsessed with Belfast Bikes and thinks that everyone should use them. She convinced my wife to buy me a Belfast Bikes membership for my birthday last summer and I absolutely love it. Best present ever!
Has Belfast Bikes changed anything about how you commute or travel around Belfast?
It's changed my commute significantly. I'm always out and about but I used to plan meetings around traffic and parking. I would have made a point of avoiding meetings in the city centre as it can be difficult and expensive to park. Now I just park my car near Connswater and cycle into Belfast where I can get to and from my meetings on a Belfast Bike. If I have time in between I like to explore the city, grab a coffee or refuel with a big feed in Bubbacue (one of my favourite places). I feel like I can really enjoy the city now because everywhere is so accessible by bike.
How does Belfast Bikes benefit you personally?
The main benefits for me are the sheer convenience, saving money on parking and the fact that it's such an easy way to nip around. I also like the fact that it benefits the environment. I have a Toyota Prius hybrid car and my wife drives an electric car so we prefer eco-friendly modes of transport.
Do you think Belfast Bikes is affordable?
Absolutely. I haven't paid a penny (literally – as my wife set up my account)! In all seriousness though, the free half hour is a major incentive for me. Most of my journeys are just under this, which is great! .
Would you recommend Belfast Bikes to a friend or family member?
I'd definitely recommend it. It's a great scheme!
Anything else you want to mention about Belfast Bikes?
I use the bikes all the time and it's one of the most-used apps on my phone! My daughter's gutted that you don't have Belfast Bikes for little'uns. We found out that (with parental consent) she'll be able to register for the big bikes when she's 14 and she can't wait!
I'd describe myself as a fair weather cyclist so I prefer not to use the bikes when it's bucketing and I'm not keen on hills (going up them that is, not coming down) so I'd love to see the addition of electric bikes one day.