Customer Spotlight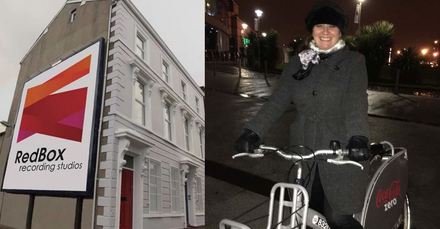 Name: Oonagh Derby
Occupation: Director of RedBox Music and TV Studios
Home Location: Moira
Work Location: Belfast
What made you decide to become a Belfast Bikes member?
I thought it was a brilliant scheme and great fun. Also I had been on similar bikes in Amsterdam and London. It's a great and easy way to get about the city.
Has Belfast Bikes changed anything about how you commute or travel around Belfast?
It certainly has. Now when I'm out for the day or evening I will think about using the bikes rather than driving or taxis - wardrobe permitting of course!
How does Belfast Bikes benefit you personally?
I like to think I'm keeping fit while I'm enjoying the city. Also - aside from my membership, it doesn't cost anything. Just think of how much money you would spend on taxis or parking.
What's your favourite thing about riding a bike in Belfast?
You really soak up the atmosphere of the city, the sounds and smells that you would miss in a car. It's also much more flexible - on a bike you can get to many more places without the traffic and all of this without sore feet.
Do you think Belfast Bikes is affordable?
Absolutely! I've used them for a whole day without spending a penny as my trips between each destination were within the 30 minute timeframe. Everywhere is so quick and easy to get to by bike!
Would you recommend Belfast Bikes to a friend or family member?
I have recommended these bikes to everyone. They add extra fun and adventure to an afternoon or night out. They are great craic too - just bring a hat and away you go!
Anything else you want to mention about Belfast Bikes?
The docking stations are everywhere and the technology is so easy to use (even I could do it). I'm not exactly a keep fit type of person - so using the bikes gives you that feel-good factor as you've earned a few good exercise points. Every little helps!